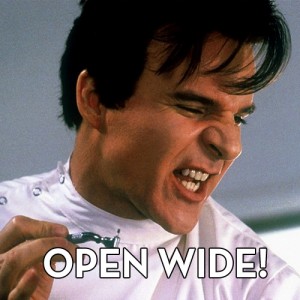 This morning, stuck in the dentist's chair again, I was contemplating with dread the work to be done. You see, I've had many dentists over the years and have only recently found one I like. It's not the movie in the background to distract me, though that is nice. And it's not the friendly manner of the staff, though that's very important to me as well. It's the deliberate communication.
Yesterday, at lunch, a friend and I were laughing at ourselves for having worked together in the past on a small team of 5 people and the communication problems that we had. While a larger team would certainly require more coordination, it is astonishing how easy it is for even a small, close-knit, co-located team to be deliberate about sharing information.
So back to sitting in this chair with the sound of the drill coming from the next exam room… When it is my turn, our 3 person team (dentist, hygenist, and patient) carefully coordinates the execution of today's project with blow-by-blow commentary, making adjustments to each other as we go. And while the experience isn't one I hope to repeat – you can bet my flossing will improve! – for the first time, I have complete trust in my dental team because they keep me constantly in the loop as a disciplined practice. And a little pain control doesn't hurt either!