Announcing the Rapid Testing Intensive seminar.
This is something new. From July 24 to 28, my brother and I are going to run a short, extreme testing project over five days. We have a nice big space, good Internet, and we'll be cut off from all distractions.
The most interesting element, from my point of view, is that students can attend onsite OR online. Onsite attendance is more trouble, more work, more expense, but also a completely vivid immersive testing experience where you will work shoulder to shoulder with two of the guys who created the Rapid Testing methodology that is now taught all over the world. Online participants will also test and attend optional webinars twice a day during the week. We will have a dedicated coordinator and an online forum so that the experience will be exactly like working as a remote tester on a busy project team.
The outcome of the week will be a test report that will become a part of each participant's professional portfolio.
I'm so glad Jon is doing this with me. We complement each other well. Jon is a day-to-day test manager who has applied Rapid Testing in his work for nearly all his career since the mid-90′s. I'm a consultant who's been teaching Rapid Testing since I invented it. Besides, it gives me an excuse to use this graphic…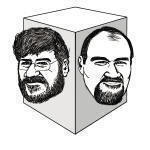 This may look like George Lucas and Vladimir Lenin, but it's me and Jon…