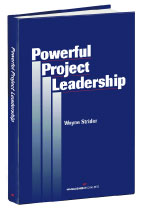 I am excited to share that Quality Perspectives and Unimagined Testing are offering the Powerful Project Leadership Skills course instructed by industry recognized leadership consultants Wayne and Eileen Strider. Wayne and Eileen each have over 30 years IT experience including over 20 years experience with the Virginia Satir Growth Model. This three day course will be offered in Calgary on April 23-25, 2012.
Course Overview
You are an experienced information technology professional. Regardless of your position, role or title, you may find yourself managing projects. You know the mechanics of project management—initiating, planning, scheduling, staffing, executing, monitoring, controlling, and closing projects. Now you want to strengthen your leadership skills—skills that enable you to work effectively with customers, bosses, peers, staff, and vendors as well as help them work effectively with one another.
This workshop will help you balance your needs and expectations as a leader, the needs and expectations of other project individuals, and the realities of your project's context. This workshop addresses directly human relationship situations that can put your project at risk—when stresses emerge, tempers flare, and uncertainties and self-doubts arise.
Adapted from the book Powerful Project Leadership by Wayne Strider, this workshop can benefit anyone whose work involves managing relationships among project team members, sponsors, committees, functional users, customers and vendors.
For more details on the Powerful Project Leadership Skills course, please see our PPLS Course Details page.
Registration
Early bird registration of $1625 per person will be offered to Satir Global Network members and $1699 to non-members until January 31, 2012. Starting February 1st registrations will be $1925 per person for Satir Global Network members and $1999 to non-AST members.
Fees include training materials, lunch and refreshments. Participants will also receive a copy of the Powerful Project Leadership book. Please note there is a maximum of 28 spots available.
Dates
Location
Registration Fees
April 23-25, 2012
Calgary, AB Canada
The Kahanoff Centre
Suite 200, 1202 Centre St SE
www.kahanoffconference.com
Early Bird Registration (Until January 31st)

$1625 for Satir Global Network Members
$1699 for Non-Members

Registration (Starting February 1st)

$1925 for Satir Global Network Members
$1999 for Non-Members
For more information on becoming a member of the Satir Global Network, please visit http://satirglobal.org/about/donate-to-support-this-site/membership/.
Do not miss this great opportunity! We look forward to seeing you at the course. Should you have any questions or concerns, please contact us.