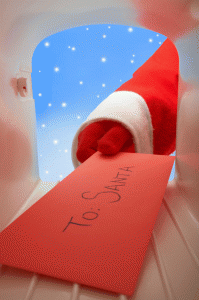 Now that Halloween has wrapped up the planning for Christmas is in full swing. I've started encouraging my kids to start thinking about what Santa could bring them for Christmas so I can get an early jump on my Christmas shopping this year. While talking about Santa and the magic of Christmas I started to think about what I might want.
I've been on a particularly demanding project with tight time-lines and a release date that cannot move. Or more accurately put, will not move. As the test team on a waterfall project, we are the last ones to complete our work before the release. Now with the test phase on the horizon and only a few short months before go live, we are feeling the crunch and we need more time! So what do I do?
I thought and I thought and then it occurred to me. I really need a miracle here and I know one fellow that specializes in making miracles at this time of year! So, I started my letter to Santa and I'd like to share with you what I wrote:
Dear Santa,

Hi, it's me Nancy. I know I haven't written you in a while, sorry about that.

I was hoping this Christmas you could help me out. See I am a Test Lead on a software development project and they are hoping I can perform a miracle. The project has had quite a few delays as I am sure you can relate to. I can only imagine making toys for all the boys and girls around the world comes with a multitude of challenges. All the delays on my project have made it tough for me to complete what I feel needs to be done in time for my project to ship. My big challenge is that my release date cannot move (much like your Christmas deadline) but I need more time. I am working hard where I can, putting in the extra hours, but I'm afraid it won't be enough.

Therefore, I was wondering if you could bring me two more weeks for Christmas. Just 2 more weeks. All the other teams got two more, and I'm asking for the same. Is there any way you could help me out?

Thanks Santa, I know you'll do what you can for me. You always have!

Merry Christmas,

Nancy
Now, not to dis Santa, he really is a great guy but I was a little worried about whether or not he'd be able to deliver on my lofty request.  See there was that one year that I really wanted a pony. I was sure I was very good all year long and wrote a very nice letter in advance to ensure Santa had enough time to deliver. But on Christmas morning I did not get the pony I had asked for. Past experience had shown, sometimes Santa just doesn't deliver! I needed a Plan B.
My reality is that I have less time that I was originally promised and I've discovered there is more to be done! My time lines will not change, I had already asked for an extension and been told 'no'. Unless…. If I find that one (or two) really critical bugs. The ones that are "no way, no how we would ever go live with that", I can buy myself some more time, maybe. Even if I don't find those, at least the exercise of looking for them will focus my testing on the areas of my application that are critical to my business.
Other things I could consider would be to re-prioritize my testing with my business and stakeholders. We could discuss what was in the original plan, the new information I'd found and the realities of the time-line. They could then make the decisions on which areas would be tested and which would not.
I could look for additional resources to help with the testing and that would add value. Bringing someone new into the project at this stage probably won't help, but I should look for people already on my project team that could help out. Developers, business analysts, end users, etc, could all assist in the testing of certain areas. This would help give us additional test coverage and provide more information about the system in the time we have left.
I'm looking forward to Christmas morning. Excited to open my stocking and see my additional 2 weeks! But now I'm reconsidering what I might do with the extra time. Now that I've got my Plan B and have been able to get business agreement I'm not sure if I should spend my additional time testing. In fact, I think I might just take that time for myself. I know once we go live I'll be exhausted from working hard and I'll probably deserve a nice 2 week vacation! Sun, sand, and surf here I come!