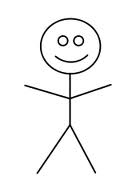 If you haven't checked out Cartoon Tester Andy Glover you are really missing out. Andy creates hilarious cartoon blog posts on his site. A few months back he posted a call for readers of his blog to create their own cartoons. Having been a long time fan of Andy's site I had tried creating a few cartoons on my own, just for fun. When I read Andy's blog post looking for submissions I thought it would be fun to submit one of the cartoons I had previously created.
Last month Andy posted my cartoon on his web site. You can see all of Andy's great cartoons and enjoy his wonderful humor on his site: http://cartoontester.blogspot.com/
Thanks Andy for your great inspirational humor and encouraging others to send you cartoons! Keep up the great work.