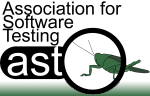 This year's CAST2010 conference was once again amazing. It was great to visit with previous year's attendees as well as meet new people. CAST is a unique, one of a kind conference. Everyone who is part of software testing industry should try to attend. One of the unique aspects of CAST is the nightly gathering of attendees to engage in discussions, puzzles, games and challenges. These discussions and challenges are a great learning experience and give new insights to both participants and observers.
Preparation is already underway for CAST2011 and will be hosted by Jon Bach in Seattle, Washington.  I expect the 2011 conference will not disappoint and am excited to attend again.
If you haven't been to CAST before, please come. You really don't know what you are missing. CAST will change the way you think and will impact your approach to software testing.
The Challenge
I hope 2011 will be the largest CAST we have ever seen and I have challenged myself to help make that happened. I am committed to find 5 new people who have never attended CAST before and convince them to attend next year.
I encourage you to make the same commitment. Find 5 other people who have never attended before and convince them to come. If you are a manager or director, find a way to send the software testers in your company. Since CAST is a conference that provides many opportunities for participants to confer, the attendees are a huge part of the conferences success.
You've got a year. That's one person every 2 months. Are you up for the challenge?